Post for LD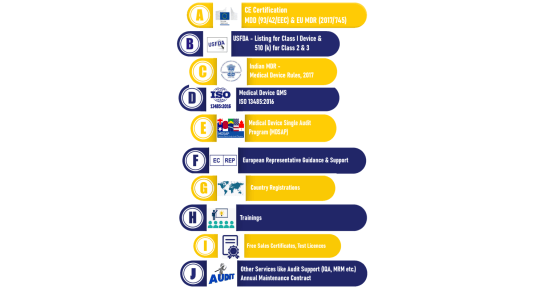 Services that we provide
CE Certification according to the following.
MDD (93/42/EEC).
IVMDD (98/79/EEC).
EU MDR (2017/745).
EU IVDR (2017/746).
USFDA certification process.
Registration and Medical device listing.
Premarket Notification/ 510 (k) Submission for Class II Devices.
Premarket Approval for Class III Devices.
Indian MDR- Medical Device Rules, 2017.
Test License and Manufacturing License process.
Documents preparation according to Checklist.
ISO 13485:2016- Medical device Quality Management System.
Medical Device Single Audit Program (MDSAP).
NIOSH.
European representative Guidance and support.
Country registrations.
Trainings on CE certification, USFDA, Indian MDR, ISO 13485:2016, MDSAP.
Free Sales Certificates and Test licenses.
Audit support (IQA, MRM) and Annual Maintenance Contract.
Document templates sale for Technical Documentation, ISO 13485:2016.