PMS/PMCF/PSUR in MDR
Post Market Surveillance in medical devices (PMS)
What is PMS? (Post Market Surveillance for Medical Devices)
Post Market Surveillance for Medical Devices (PMS) is a system to gain and review the post production phase from the medical devices. The PMS system is an integrated part of manufacturer's quality system. If the manufacturing company is not having any kind of quality management system, still an effective Post Market Surveillance has to be in place.
PMS Report has to be prepared for products for class I medical devices.
What can be the inputs of Post Market Surveillance (PMS)?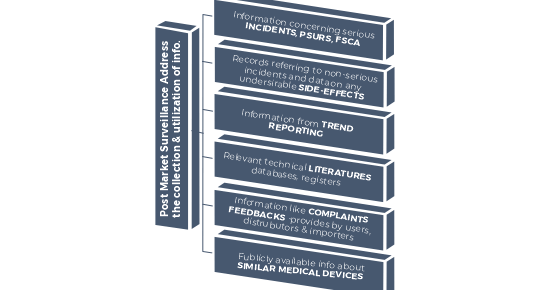 Periodic Safety Update Report (PSUR)
What is PSUR?
PSUR is an extension of Post Market Surveillance for medical devices (PMS) Report of medical devices with higher risks (Class IIa, Class IIb and Class III). PSUR report shall be prepared for each device/each category or group of devices. It summarizes the results and conclusions of the analyses of the Post Market Surveillance (PMS) data.
By implementing PSUR, It provides a summary of post market information, vigilance reporting, and current status of particular devices on the European Market. Like the PMS Report, the PSUR also requires to be included with a rationale and description of any corrective actions taken for product on the market.
What can be the inputs of PSUR?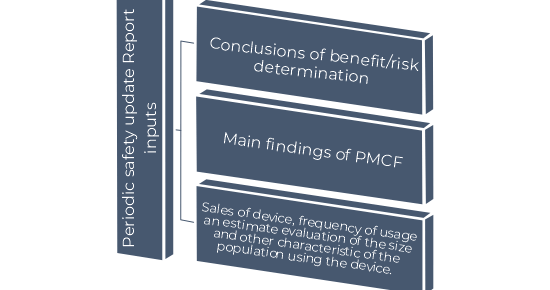 What is suitable for our devices? PMS Report or PSUR?
Post Market Clinical Follow-Up (PMCF)
What is PMCF?
PMCF is a continuous process of collection of data on clinical experience that updates clinical evaluation regularly. PMCF also shall be addressed in Post Market Surveillance Plan.
Mainly, collection and evaluation of clinical data of used CE marked and marketed medical device or put into service within its intended purpose with the aim of confirming the safety and performance throughout the expected lifetime of the device.
Why PMCF?
With the help of PMCF data collection, continued acceptability of identified risks can be ensured and emerging risks can be detected.
With conclusive PMCF Report, Clinical Evaluation and Risk Management can be updated. We can say that output of PMCF Report is input for Clinical Evaluation and Risk Management.
Mandatory for Our Medical Devices?
PMCF is mandatory for Class III and Implantable Devices as per requirement of MDD. Same requirement is there in MDR. In case of inapplicability of PMCF, rationale shall be submitted in technical file along with the technical documentation of medical device.