Medical Device Classification & Rules and Key changes in MDD to MDR
Medical Device becoming more important in the health care sector. Today there are more than 8000 generic medical device groups where some devices contain drugs. This increases the demand for better regulatory frameworks to ensure that products entering the market are safe and efficient.
Every medical device is regulated in some way by Regulatory agencies, Such as FDA, European Commission, Health Canada. These regulatory agencies have defined a bunch of rules and regulations (or "laws") regarding medical devices. Each regulatory agency has defined several different classifications for medical devices. But all agencies are classified medical device on the bases of risk. So, all the medical device are classify depending upon risk.
What are the need for Medical device classification?
Medical device classification is important for the following reason;
Product Classification will determines class of product either it is class I, Class II and Class III device.
Classifying the device gives the idea about risk attained by that device and lead to identify the compliance of regulatory requirements.
What are the requirements of regulatory agencies.
Product classification is an important component in determining how much it will cost to bring your product to market and give you some idea of how long it will take.
Medical Device Classification
According to EU Medical Device Directive (MDD) and EU Medical Device Regulation (MDR), Medical Device Classification is based on the inherent risks posed by the devices. Article 9 of EU Medical Device Directive (MDD) describes about Medical Device classification where as EU MDR 2017/745 decribes about classification in Article 51.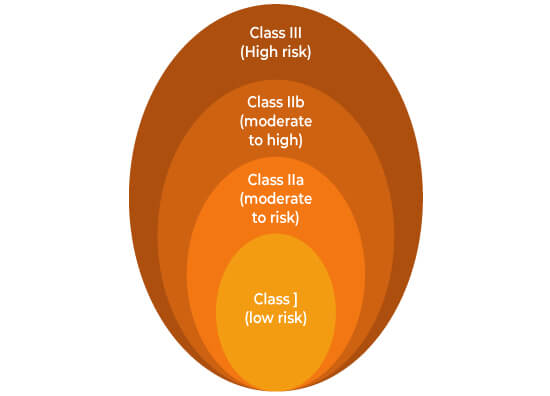 What are the changes in Classification & Rule of product in MDD to MDR?
Although the medical device classification system itself has not changed, several new rules regarding the classification of substance-based devices have been established. All devices containing substances that will be introduced to and/or absorbed by the body will rely on a totally different classification system. As a result, many devices will be reclassified to higher-risk classes. This has been detailed in the following Articles: 1, 2, 22, 23, 51, and 52.
In MDD there were 18 rules, where as in MDR new rules are added hence there are total 22 rules. As per the rules some of the devices may be reclassified to higher category or lower category.
Sr. No
MDD
MDR
Medical device classification
Ø  Class I (e.g. Corrective glasses and frames, Stethoscopes)

Ø  Class IIa (e.g. Infusion cannulae, clamps)

Ø  Class IIb (e.g. Intraocular lenses, non-absorbable sutures, bone cements)

Ø  Class III (e.g. Cardiovascular catheters i.e. angioplasty balloon catheters, stent delivery catheters/systems),

Ø  Class I (e.g. Corrective glasses and frames)

Ø  Class  Is (sterile)-(e.g. personal protection kits)

Ø  Class Im (measuring body attributes)-(e.g. Stethoscope, weighing balance)

Ø  Class Ir (reuse)-(e.g. surgical forceps)

Ø  Class IIa (e.g. Surgical gloves, lancets, Orthodontic wires)

Ø  Class IIb (e.g. Intraocular lenses, Orthopedic implants like bone plates and nails)

Ø  Class III (e.g. Breast implants or surgical meshes, stents, spinal implants),

Rules
Rules 1- 4: Non-invasive Devices

Rules 5 – 8: Invasive Devices

Rules 9 – 12: Active Devices

Rules 13 – 18: Special Rules

Rules 1- 4: Non-invasive Devices

Rules 5 – 8: Invasive Devices

Rules 9 – 13: Active Devices

Rules 14 – 22: Special Rules
Rules changes in MDD to MDR e.g. are mention below,
In rule 2 Addition of "cells and tissues" to the existing language.
Blood bags moved to MDR Rule 2 from Rule 18 of MDD.
In rule 3 Addition of human tissues and cells to blood, body liquids and other liquids
Inclusion of organ storage solutions, IVF media into the Rule 3 which are now class III
In rule 4 Addition of injured mucous membrane to injured skin, Replacement of 'wounds' with injuries to skin, Also covers invasive devices that come into contact with injured mucous membrane
Rule 6, All devices intended specifically for direct contact with heart or central circulatory system now class III similar to devices in contact with central nervous system.
Rule 8, AIMDD devices and accessories are class III, • Breast implants and surgical meshes are class III, Total and partial joint replacements are class III, Spinal disc replacement implants or implantable devices that come into contact with spinal column are class III with some exceptions (screws, wedges, plates and instruments)
Rule 9, Addition of active devices intended to emit ionizing radiation for therapeutic purposes, including devices which control or monitor such devices, or which directly influence their performance, are classified as class IIb, Addition of active devices that are intended for controlling, monitoring or directly influencing the performance of active implantable devices are classified as class III.
Rule 10, Addition of 'monitoring' to diagnosis, Active devices intended for diagnosis in clinical situations where the patient is in immediate danger as class IIb.
Rule 11, new rule on software.
Rule 13 in MDD Clarification that medicinal product can be derived from human blood or plasma "Liable to act" taken out liable to act on the human body with action ancillary to that of the devices, are in Class III.
Rule 15, Addition of sterilizers to disinfectants, Disinfectants or sterilizers become IIb only if they are used for invasive devices and as the end point of processing
Rule no. 19, is New rule Classifications from III to IIa based on potential for internal exposure
Rule no. 20 is New rule Classification IIa or IIb, IIb if they impact the safety and performance of the medicine or intended to treat life-threatening Conditions
Rule no. 21 is New rule Classification from IIa to III based on where they are used and whether they or their products of metabolism are absorbed
Rule no. 22 is New rule Class III Only applies if such devices significantly determine the patient management , Closed loop systems or automated external defibrillators