EU MDR Requirement for Orthopedic Implants
In today's changing regulatory landscape, it's more important than ever for medical device manufacturers to understand the nuances of device Performance. We provide Implications of recent and pending regulatory updates, why it is more important than ever before, and how you can begin assembling the right team of experts to ensure your product portfolio complies.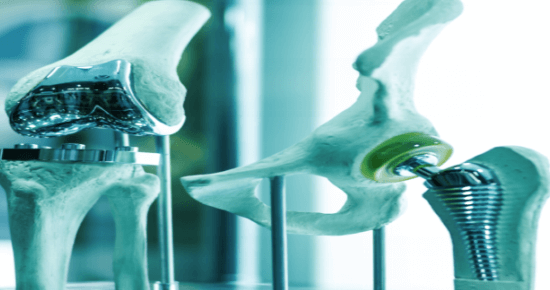 Materials Expertise
Our materials knowledge gives us great understanding of their behavior and performance.  Your product or material could benefit from the many services we offer, including:
Biocompatibility – ensure your products are biocompatible and avoid unnecessary in vivo testing.
Quality Control Testing – ensure batch consistency through existing or developed protocols
Regulatory Submission Support – generate accurate and complete data to submit to FDA and other authorities.
Cleanliness Validation – develop protocols, validate cleanliness, identify contaminants and understand the significance of changes to your manufacturing process.
Wear and Mechanical Testing – test the durability and robustness of orthopedic implants and other medical devices.
Failure Analysis – identify root causes, solve failures and prevent reoccurrence.
Method Development – we can develop and validate customized methods for all your testing and analysis requirements where industry standards aren't available.
Additive Manufacturing Support – understand the limitations of your new process and its impact on your product performance, including achieving cleanliness and understanding failure modes.
According to EU MDR ANNEX I requirements of different clause for orthopedic implants are.
GSPR 1 generally corresponds to MDD ER 1. In fact, much of the text is the same. This requirement states that the devices shall be 'designed and manufactured in such a way' that safety of patients and users shall not be compromised.
GSPR 10.1. Devices shall be designed and manufactured in such a way as to ensure that the characteristics and performance requirements referred to in Chapter I are fulfilled. Particular attention shall be paid to: (a) the choice of materials and substances used, particularly as regards toxicity and, where relevant, flammability; (b) the compatibility between the materials and substances used and biological tissues, cells and body fluids, taking account of the intended purpose of the device and, where relevant, absorption, distribution, metabolism and excretion; (c) the compatibility between the different parts of a device which consists of more than one implantable part; (d) the impact of processes on material properties; (e) where appropriate, the results of biophysical or modelling research the validity of which has been demonstrated beforehand; (f) the mechanical properties of the materials used, reflecting, where appropriate, matters such as strength, ductility, fracture resistance, wear resistance and fatigue resistance; (g) surface properties; and (h) the confirmation that the device meets any defined chemical and/or physical specifications.
GSPR 14.2 (b) risks connected with reasonably foreseeable external influences or environmental conditions, such as magnetic fields, external electrical and electromagnetic effects, electrostatic discharge, radiation associated with diagnostic or therapeutic procedures, pressure, humidity, temperature, variations in pressure and acceleration or radio signal interferences.
GSPR 14.5 Devices that are intended to be operated together with other devices or products shall be designed and manufactured in such a way that the interoperability and compatibility are reliable and safe.
So as Orthopedic manufacturer we need to comply this all requirements….. And provide certain documents like Product combination chart according to its compatibility, surgical technique for reduce human errors, Perform Biocompatibility testing for Pre-clinical and clinical data, Mechanical testing and many more …. As requirements of EU MDR.
For more detail Contact Maven Profcon Service LLP.