Effective Preparation
ISO: The International Organization for Standardization is an international standard-setting body composed of representatives from various national standards organizations and who develop and published the system and product specific standards.
ISO 13485: 2016 Medical devices — Quality management systems — Requirements for regulatory purposes published by ISO in March 2016. ISO 13485: 2016 standard Closely aligned with ISO 9001, which outlines QMS standards for all industries, ISO 13485:2016 provides an added emphasis on the promotion and awareness of applicable regulatory requirements for the medical device industry. It also focuses heavily on risk management and design controls throughout the product development process, and includes various detailed requirements pertaining to specific medical devices.
ISO 13485 was written to support medical device manufacturers in designing quality management systems that establish and maintain the effectiveness of their processes. It ensures the consistent design, development, production, installation, and delivery of medical devices that are safe for their intended purpose
ISO 13485:2016 helps address new risk factors, or "Technical Changes," resulting from an industry that has evolved due to commerce, economy and new discoveries. For example, contract manufacturing and process outsourcing have allowed companies to become established with two people, a good idea and sufficient seed money.
Requirements of ISO 13485:2016 are applicable to organizations regardless of their size and regardless of their type except where explicitly stated. Wherever requirements are specified as applying to medical devices, the requirements apply equally to associated services as supplied by the organization.
The processes required by this International Standard that are applicable to the organization, but are not performed by the organization, are the responsibility of the organization and are accounted for in the organization's quality management system by monitoring, maintaining, and controlling the processes.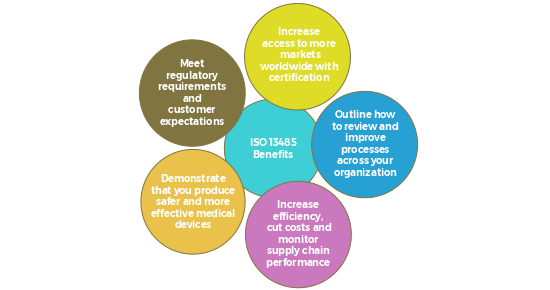 all, ISO 13485:2016 does not bind the hands of manufacturers or create additional legislation which will prevent the development and release of a new product as it is aligned with other country specific regulations/ regulatory requirements. It simply enforces a regulation that has always been a requirement, even if the majority of global medical device manufacturers have failed to perform accordingly.
We have a customized plan for each type of Medical device manufacturers or sub-contractors.
Our plan helps you to understand the updated requirements, perform gap analysis, train the employees on changes and aid in implementation throughout the organization.
Implementation and maintenance of your ISO 13485:2016 quality management system requires the participation of your entire team. For your QMS to succeed, it is critical that your employees understand the necessary procedures and daily functions. The new ISO 13485:2016 focuses on the entire supply chain of the medical device industry, with emphasis on risk management.
Now that your company is thinking about implementing a QMS (Quality Management System) and getting certified against ISO 13485, you may be wondering about where – and how – to get started. To get you going on the right track, we at Maven Profcon Services LLP, provide customized service to the Medical device manufacturers to aid in ISO 13485:2016 Awareness, establishment and implementation.
We also provide Annual Maintenance services for regular review and update of the QMS that not only includes the documents update, but also providing Internal Audit and MRM execution, audit support during the external audits, audit finding closure and Corrective Action implementation.